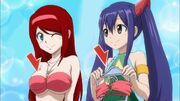 Apparence
Edit
Yuka is a beautiful young woman , it a pale skin and long hair red like blood it often with the aid of a black headband, big eyes green bleuté.Elle usually dresses in a white shirt sleeves rolled up to the elbows, a black skirt, black socks rising and a pair of black and white boots
Personality
Edit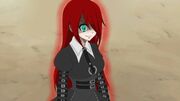 Yuka is a smart girl and lively spirit with a curious nature, a sharp tongue and a direct way to approach things - she's not afraid to speak her mind. His mother described Yuka as irresponsible. It proves to be very ruthless and cynical toward others. It is also stubborn and becomes furious when she does not agree with another personne.Ayant a vivid imagination and a spirit a little disturbing because of the incendit where her parents are dead, who have deeply traumatized , he often to mix fiction to reality, giving it claims hallucination.
History:
Edit
Yuka, and sleeping very deeply immersed in his childhood dreams, finds himself suddenly woke up while his own house was on fire and that his family is stuck to it. So she runs away, unable to save them ... And finds himself confined to the asylum, traumatized and tormented by guilt for having left his family in flames. Yuka will therefore 'refuge' in his imagination in Wonderland, as in his favorite tale Alice in Wonderland ...... Having spent 10 years in the asylum Coppelion, it is not that the return of his brother, "Yuko and Hiro," which was left was abroad, she could get out, at the age of 14 years to live a normal life, almost, the fire having deeply touching him having strange hallucination, see dolls prendres life or maim a rabbit head instead of the people she sees, it also happens to become hysterical, capable of anything ..... Despite this, Yuka does its best to parêtre normal in the eyes of others, and poursuivres his research, in revenge for the assassin of his parents the police was investigating the death of the parents of the latter, they claimed that it was the cat mansion that had knocked a candle on the shelf of the library and it was she who had propoger flames, except that Yuka saw a male figure penetrate the mansion before the tragedy, and besides his cat "Kuro "was by his side, it's also thanks to him that she managed to get out of the house, through the window of his room ...
Ad blocker interference detected!
Wikia is a free-to-use site that makes money from advertising. We have a modified experience for viewers using ad blockers

Wikia is not accessible if you've made further modifications. Remove the custom ad blocker rule(s) and the page will load as expected.