Rev Karugan
Alias

Yellow Devil

Characteristics

Race

Human

Gender

Male

Age

17

Height

163 cm

Weight

63 Kg

Birthday

3 July

Hair Color

Yellow

Eye Color

Dark blue

Blood Type

Unknown

Professional Status

Occupation

Mage

Previous Occupation

Farming with foster parent

Team

N/A

Partner(s)

N/A

Base of Operations

Rented house

Personal Status

Status

Alive

Relative(s)

Ron Dajoul (foster parent)

Magic

Magic

Solar System Magic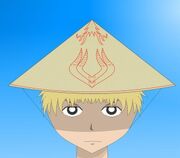 Personality
Edit
Rev Karugan is a rather sceptical but positive person. He is kind towards others and he looks for a guild to do jobs and meet friends. He never had any friends before, and always lived together with his foster parent.
He is currently searching for a guild to do jobs and find friends. Once he obtain jobs in guilds, he will use the money to pay rent for a home for himself, invest a part of the money in the guild and send some money back to his foster parent.
He has a preference in duelling other mages, even though he is pretty weak. His tactics in a fight is to 'observe' his target. That's why he never goes full out at the start of a fight. By observing your target in battle, you learn about his magic and tactics and his weakness.
By finding his target's weakness, he will strike that weakness with full power.
He has a conical hat which his foster parent gave him. It was made in his village from long ago, and he often wears it. He is very attached to the hat, and he does not let anyone else wear it. Because his dad went on alot of mage jobs, Rev made that hat for him to protect him from the sun. But Rev lost his parents, and the hat is the only thing he has left.
[Adding later]
[Adding later]
Magic taboo
Edit
[Yo, Adding later..]