Erica Felicia Eucliffe (エリカ フェリシア・ユークリフ Erika Ferishia Yūkurifu) is the daughter of Selenica E. Fiore and Sting Eucliffe Her apperance is much like her mother in Freasha mode. Like her mother she is also expert in swordmanship.
Appearance
Edit
Erica is slim young girl, with blonde hair and blue eyes.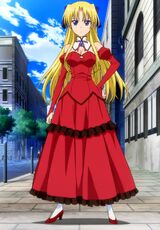 Personality 
Edit
Erica is somewhat strict, kind, elegant, sweet, she is also rash with words.
Magic & Abilities
Edit
Master Swordsmanship Specialist: Erica possesses great mastery in swordsmanship and her skills in swordsmanship are of the highest caliber.In addition, her sword slashes possess so much force behind them that they are able to slice through metal using only the air pressure from the swings.
Equipment
Edit
Relationship
Edit
Ad blocker interference detected!
Wikia is a free-to-use site that makes money from advertising. We have a modified experience for viewers using ad blockers

Wikia is not accessible if you've made further modifications. Remove the custom ad blocker rule(s) and the page will load as expected.