Elisha Solaria
Kanji

エリシャソラリア

Rōmaji

Erisha Soraria

Alias

Princess (姫 Hime)

Characteristics

Race

Human

Gender

Female

Age

17

Height

5'2"

Weight

46.2 kg

Birthday

February 16

Hair Color

Grey

Eye Color

Green

Blood Type

A Type

Professional Status

Affiliation

Fairy Tail

Previous Affiliation

Kingdom of Solaria

Guild Mark Location

Left arm

Occupation

S-Class Mage

Team

Team Maki

Previous Team

Fairy Tail Team B

Partner(s)
Base of Operations

Second Fairy Tail Building

Personal Status

Status

Active

Relative(s)

Unnamed Parents

Hisui E. Fiore(Cousin)

Magic

Magic

Shining Sun

Dragon Flame(Temporary)

Weapons

Ring Of Solaria
"No matter what happens, i'll win this fight!"

— -Elisha Solaria to
Maki Crystal
(x789)
Princess Elisha is the Princess of Solaria(ソラリアのプリンセスSoraria no purinsesu), Has the power of the shining sun, and a S-Class Mage. A Former Mage of Sabertooth
Appearance
Edit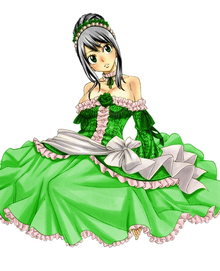 Elisha is a slim young woman with curvaceous and large breasts. She has long straight gray hair and green eyes. With her green fairy tail stamp located at her left arm. Elisha, being the strongest Mage at Team Maki, is widely known. She is described to be rather beautiful and pretty by all of her Team mates. She often wears a necklace that her parents gave her before they died. At year x791, she changed a lot like before, well... She's like not the Princess Elisha one year ago.. She is now a Mage of Fairy Tail. She doesn't include herself as a relative of Solaria ever since she joined Sabertooth.
Personality
Edit
Elisha is a strong S-class mage with a strong personality. She is confident and a polite girl yet, pathetic sometimes. She is known as he 'Demon Of Solaria'. She has a great interest in occult, yet and a though girl.
Elisha is kind of a coward when it comes to demons or devils something, but she is able to protect her comrades. She used to be feared when she was a member of Sabertooth, the number one strongest guild in Fiore.
When Elisha was a child, she promised that she will protect the kingdom no matter what happens.
Magic and Abilities
Edit
Full-Powered Sun Down
Luminaire
Ray of Sunlight
Rising Sun
Solar Burst
Solar Flare
Solar Wind
Speed of Sunlight
Stella's Solar Flare
Sun Beam
Sun Bolt
Sun Shower
Sun Up Attack
Sun Vision
Sun Wing Supernova
Mirror Flare
Reflecting Mirror
Sun Flame
Super Sun Power
Ocean of Light
Cloud Breaker
Enchantix Moon Shield
Light Wave
Magic Rainbow
Power of the Sun
Solar Blast
Sea of Light
Solar Charge
Sunbeam Shower
Sun Energy Burst
Sun Energy Discharge
Sun Negation
Dawn of Light
Double Eclipse
Sirius Shield
Solar Storm
Sun Dance
Sun Storm
Universal Light
Sun Boomerang
Shining Mirror
Dazzling Spiral
Shining Punch
Golden Disk
Light Diamond
Blinding Ray
Light of Sirenix
Light Spectrum
Solar Halo
Ray of Pure Light
Total Eclipse
Relationships
Edit
...
Ad blocker interference detected!
Wikia is a free-to-use site that makes money from advertising. We have a modified experience for viewers using ad blockers

Wikia is not accessible if you've made further modifications. Remove the custom ad blocker rule(s) and the page will load as expected.