Ahiko
Kanji

????????

Rōmaji

????????

Characteristics

Race

Human

Gender

Male

Age

19

Height

6'0

Weight

150

Birthday

January 1st

Hair Color

Green

Eye Color

Black

Blood Type

O

Professional Status

Affiliation

Lamia Scale

Guild Mark Location

Right Pectoral

Occupation

Mage

Team

Team Marina

Partner(s)

Marina
Milly
Katana Redfox

Base of Operations

Lamia Scale Guild

Personal Status

Status

Active

Relative(s)

Megumi(step-sister)

Magic

Magic

Storm God Slayer
Athletic Magic
Command Magic
Mechanic Magic
"You only live once but if you spend you spend it correctly once is enough"

— Ahiko

Ahiko is a member of The Lamia Scale Guild and a Member of Team Marina.
Apperance
Edit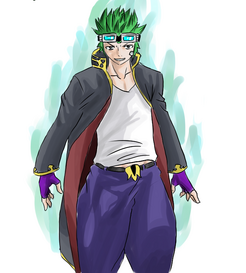 Ahiko is a lean, muscular young man of average height with a slightly tan skin tone, black eyes, and spiky green-colored hair.He has a scar above his left eye that is covered almost completly by his hair.He has a bandage on his right cheek which is suppposed to cover a very deep wound.
His green guild mark is located on his right right pectoral. His usual outfit consists of a plain white tank top with a black knee length coat with gold trimming arond the sleeves and collar over it.He wears purple gloves and pants the color of eggplants.
Personality
Edit
Ahiko has a laid-back and competitive nature but will get serious when the time calls for it. He and Katana have a friendly rivalry, and while they can often be seen fighting one another verbally or physically,the two are actually quite concerned about each other.Ahiko was quite obstinate and reckless when he was younger. Over time, he has attained a more cautious attitude towards life, and deals with problems carefully. He is very concerned about his comrades and is truly loyal towards the guild, but tends to trash talk every now and then.Ahiko loves to destroy,build,fix items or objects and is usually in a good mood when doing so. He is also in a good mood when there are very bad storms or weather outside.